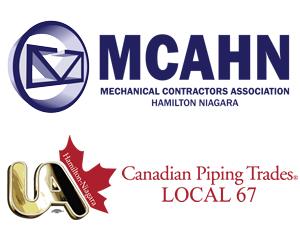 Since 1966, trusted quality & tradition
building our community for your future!
In 1966 an agreement was made between
Mechanical Contracting Association Hamilton Niagara (MCAHN)
and
United Association of Journeyman and Apprentices of the Plumbing and Pipe Fitting Industry of the United States and Canada (UA)
with the purpose and intent to promote the business of plumbing, heating, pipe fitting and the gas fitting industry.
It has been agreed to follow and ensure a Standard of Excellence and efficiency in the industry for the protection of the public. MCAHN and UA Local 67 have established and maintained fair conditions and the highest safety practices to adhere to regulatory standards for those engaged in the industry.
Learn Why our MEMBERS
Are 31% Safer
The Union Safety Effect Report, prepared by the Institute of Work & Health, re-confirming findings that unionized construction work is safe work. In fact, building trades unions in Ontario's ICI construction sector are 31% safer when compared to non-union firms. Our members are proud of being a safety leader in Ontario's construction industry.
---
Meet Our 31% Safer Spokesperson
ROBERT BRONK, Chief Executive Officer
Ontario Construction Secretariat
Robert Bronk was appointed Chief Executive Officer of the Ontario Construction Secretariat (OCS) by the organization's Board of Directors in October, 2017. With the appointment, he became only the third CEO in the organization's 25 year history.
Mr. Bronk joined the OCS having previously served as the Executive Director at the Finishing Trades Institute of Ontario. There he was responsible for managing the training of glazier and painter apprentices and the health and safety training for IUPAT members across the province.
Prior to his work with the Finishing Trades Institute Ontario, Robert enjoyed a successful career in the Canadian Football League (CFL) as a running back with the Toronto Argonauts in the early 80's, winning a Grey Cup in 1983.
Robert has a Civil Engineering degree from Queen's University in Kingston and a Masters of Business Administration degree from the University of Toronto.
In joining the Ontario Construction Secretariat, Robert joins an organization dedicated to enhancing Ontario's unionized industrial, commercial and institutional (ICI) construction industry. With research as its foundation, Robert leads a trusted organization that has written and funded several important studies including the impact of the underground economy on the construction industry (2010) and how unionized construction is 31% safer than non-unionized construction (2016). This report in particular has received widespread exposure and is often referenced throughout Canada and the U.S.
This campaign was generously supported by:

To encourage Individuals/Current Tradespersons to "join the UA/MCAHN Forces"

3632 hits